Hennessy Tavern Chopped Salad
PaulaG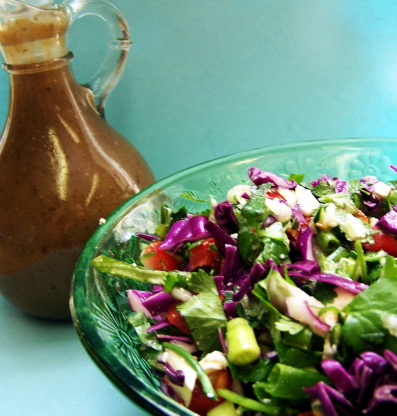 I found this recipe on Inside Dish with Rachael Ray and tweeked it a lttle. She got it from Jill Hennessy and the Hennessy Tavern, Northvale, NJ. Great salad!

I made this to take to the beach with us yesterday and it was a huge hit. I used red cabbage, cilantro and balsamic vinegar as my options. Kept the dressing (which I only made up in half after reading PaulaG's review) in a little jar and added it to the salad at the last minute. Healthy, pretty and utterly delicious.
Dressing:
Puree the vinegar, capers, 1 1/2 tablespoons mustard, and shallots(or green onions) until well blended. Pour into a bowl. Add the remaining mustard around the edge of the bowl and fold into the mixture. Add the oil in a stream while stirring constantly until creamy.
Salad:
Combine all of the ingredients in a large bowl. Move about 1 1/2 cup of the salad mixture into serving bowls. Coat lightly with some dressing and toss to combine. Serve immediately.