Pamela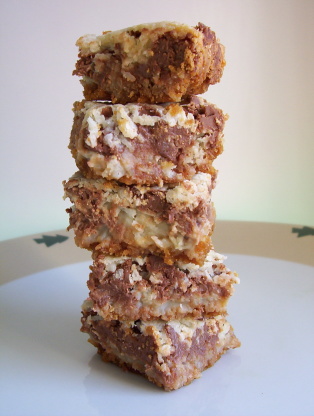 These are rich, yummy layered squares that require no bowl or mixing. They are very easy to make and come out wonderful. (I have no idea where the name came from...got these out of a 30 year old women's club cookbook.) 12/23/08: Butter amount changed to reflect the advice and opinions in reviews. Thanks!

Very good! I have tried so many cookie recipes this season and this one was true to the recipe. It came out perfect! Thanks for sharing!
Preheat oven to 325 degrees Fahrenheit.
Spread melted butter in a 9 x 13 pan.
Sprinkle with graham crumbs.
Add the nuts, chips and coconut, sprinkling evenly over crumbs.
Cover all with condensed milk.
Bake for 25 minutes.
Allow to cool and cut into squares.