Heirloom Tomatoes With Pomegranate Molasses Drizzle
jenne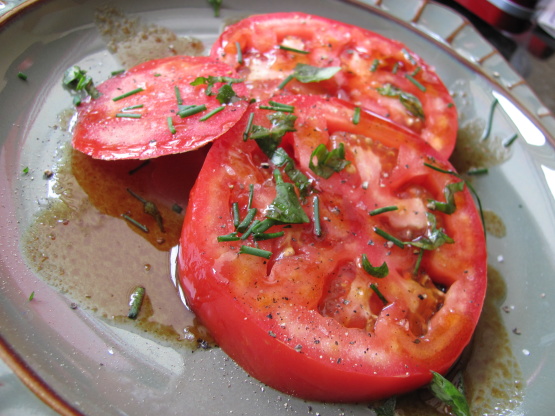 From our latest issue of Sunset Magazine, June 2011. Fresh, quality ingredients are of utmost importance. Don't like oregano? Substitute another fresh herb: cilantro, marjoram, French tarragon, etc. Perfect for summer potlucks, a casual meal, brunch... The recipe introduction in the magazine mentions "The salad is good with grilled halloumi cheese tucked between the tomato slices." Yes, sounds good to me!

I loved this simple tomato dress-up! I used fresh basil from my garden in place of the oregano but followed the recipe as written other than switching herbs. I used Recipe #86849 for the pomegranate molasses. Made for July NA/ME Tag.
Whisk together the dressing.
Arrange the heirloom tomatoes on a serving platter.
Drizzle the tomatoes with the olive oil-pomegranate molasses dressing.
Sprinkle lightly with salt and black pepper.
Garnish the tomatoes slices with the fresh Greek oregano leaves.