Heirloom Tomato Sandwich With Basil Mayo
flower7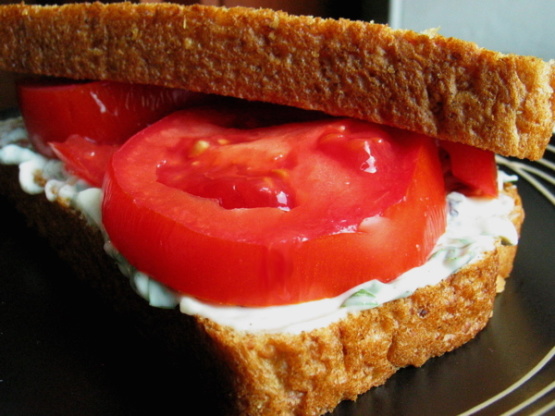 One of my favorite sandwiches when I want to keep it clean and simple.

This was fabulous! I used whole grain bread (what I had) and regular lime juice (maybe 1/8 tsp? I didn't measure.) I used a coarse pink himalayan salt since I didn't have grey salt. I will definitely be making this again and again! Thanks for the recipe!
1

heirloom tomato

2

tablespoons crumbled goat cheese

2

tablespoons of good mayonnaise
1⁄2 garlic clove

1

dash gray salt

1

dash pepper

2

pieces of dill rye bread
slice heirloom tomato.
mix mayo, chopped basil,salt, pepper,key lime juice, and chopped garlic.
place basil mayo in refrigerator for 20 mins and chill.
spread mayo on both sides of bread
crumble goat cheese on bread.
add slices of heirloom tomato.
slice in half and enjoy!