Heirloom Tomato Salad With Crisped Capers
Parsley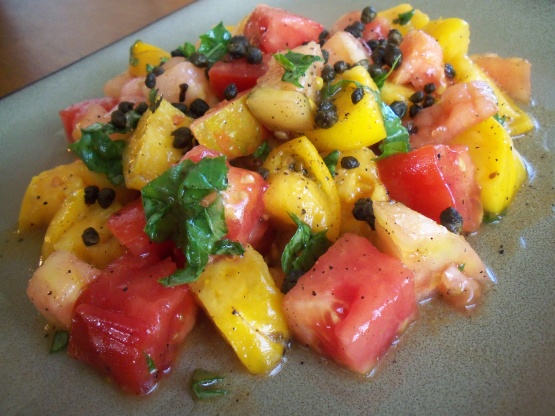 This dish is all about the tomatoes! "Heirloom" refers to certain cultivars that have been nurtured and preserved for generations, and any varity will do for this dish. The capers add a nice crispy, crunchy, savory element. Adapted from The Conscious Cook by Tall Ronnen.

Heirloom tomatoes and fresh basil are wonderful together. I msut say that the crisped capers made this salad special. I toasted the capers a bit longer than called for. They were perfectly crispy. I cut down on the oil a bit to cut some far. Thanx for a great tomato salad!
1⁄4 cup extra virgin olive oil plus 1 tsp. olive oil

1

tablespoon capers, drained

3

lbs mixed heirloom tomatoes, cut into 1/2-inch wedges

2

tablespoons fresh basil, cut into chiffonade
Heat 1 teaspoons of the oil in a small saute pan over medium high heat. Add the capers and cook until crisp, 1-2 minutes. Remove to a paper towel to drain.
Place the tomatoes in a large bowl. Drizzle with the remaining 1/4 cup olive oil, add the basil, season with salt and pepper to taste. Gently toss to coat.
Sprinkle the capers on the salads after they're plated so they stay crisp. Enjoy!