Walmart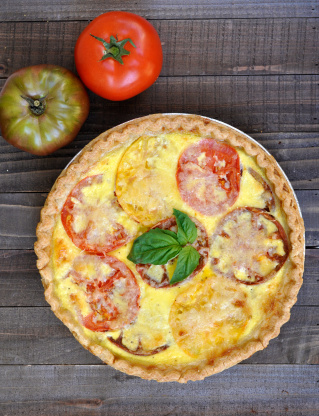 This decadent savory quiche is perfect for a hearty, gourmet breakfast during the week or a leisurely brunch on the weekends. Serve with fresh fruit.
Remove tomato seeds, if desired. Dry out tomatoes on paper towels using a dash of salt.
Over medium heat, sauté leeks in olive oil until soft (do not brown). Whisk together eggs, half and half and pepper.
Sprinkle 1/2 gruyere cheese over bottom of pie shell. Layer tomatoes concentrically and sprinkle remaining gruyere cheese.
Pour egg mixture into pie shell (Do not overfill). Bake at 350°F for 30-40 minutes, until the edges of the quiche have set.
This dish was created by Walmart Mom, Caryn Bailey.
Variations.
Grilled Asparagus and Leek or Sautéed Spinach and Leek.
Tips.
Dry out tomatoes while leeks are sautéing to save time. This will also prevent your quiche from becoming too watery during the baking process as tomatoes release their juices. Do not over-bake the quiche. It should still jiggle in the middle once the edges have set.