Jewelies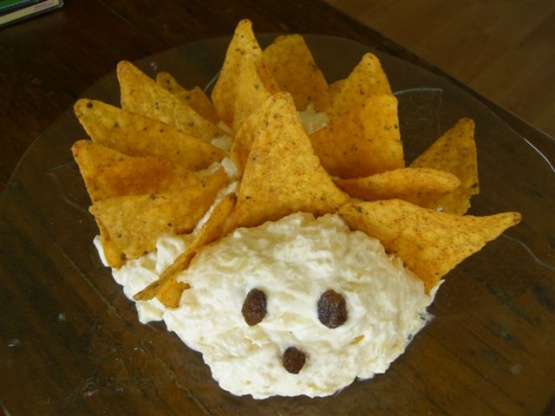 Someone gave me this recipe long ago and I have often made it for parties, and BBQ's. Kids think it looks so cute, adults just like to eat it.

This is such a great idea, I really liked it but the others not so much. I agree that it needs more soup mix, I will alter that for next time. If you are wanting a lot of dip - this is a great recipe as it makes tons! Thanks for posting.
Beat the softened cream cheese, with the sour cream, and onion soup mix till well mixed.
Stir in the grated cheese and pineapple again mix well.
Place in refridgerator until firm enough to hold own shape.
Place on a serving plate and mould into hedgehog shape with definite hedgehog nose.
Just before serving push corn chips into the dip like the hedgehog bristles.
Use grapes, sultanas, raisins or olives for eyes.
May need to place extra corn chips and around the hedgehog dip.