Annacia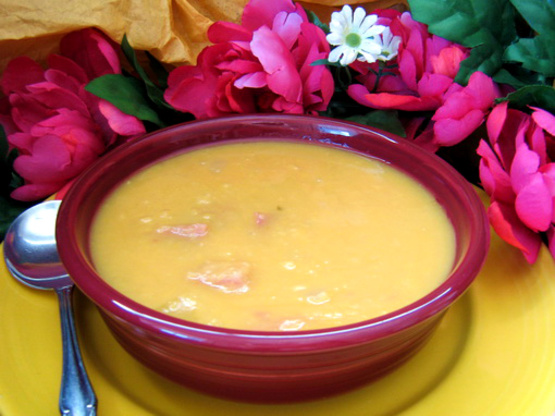 Original recipe from England but have "tweeked" the ingredients a bit. Tasty old fashioned goodness. Great for lunch on a cold winter day or serve larger portion with crusty bread for supper. JC says it is stick to your ribs good! It is essential to use good quality split peas. This soup freezes very well.

I made this last night to use a meaty ham bone up. The only changes I made were to add an extra onion, and hold the boiled and picked meat back rather than adding it in in stage 4. I returned it after pureeing the cooked soup as I find it keeps more flavour this way.
In large pot, bring ham bone, water and broth to a boil. Cover but vent slightly, and simmer for about 2 hours.
Remove ham bone, save meat to add to soup.
Transfer liquid into another container using a fat separator first. Measure liquid and add water to bring it up to 12 cups.
Add remaining ingredients and any ham picked off the bone.
Bring to a boil, cover and simmer at least 1 hour or until peas are quite mushy (no need to soak them first).
May need a bit more water to thin if needed.
Makes about 18 cups.