Hedda's Chicken(Or Turkey) and Rice Soup
Nif_H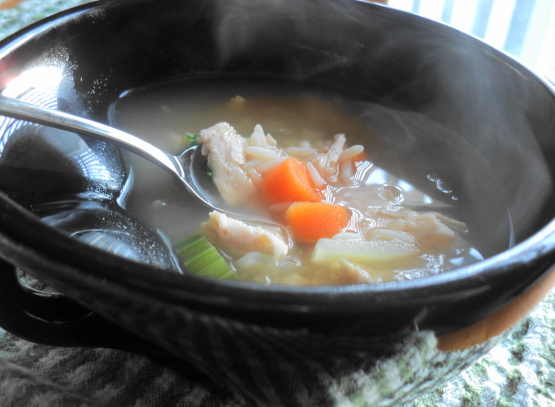 Original recipe from a former colleague. This is so good with either left over chicken or or turkey or with meat purchased especially for the recipe. I added a specific amount of pepper and a pinch of dried tarragon. A good soup for kids to make and enjoy!

Top Review by Nif_H
What a terrific and hearty soup! This was so easy to throw together and used ingredients that most people have on hand. I poached chicken breasts for this and just realized that I forgot the tarragon! The whole family enjoyed this a lot and we will have it again for sure. Made for Pick A Chef 2011 for my adopted chef, Hedda Lettuce in Ontario! Thanks!:)
In a large soup pot, saute the carrots, onion and celery in the oil over medium high heat for 10 minutes, stirring occasionally.
Add the chicken broth and rice, bring to a boil, then simmer on low for 15 minutes.
Add the chicken and pepper and continue cooking until the vegetables are tender, about 15 to 20 minutes.
Add the chopped parsley. Add salt to taste.