Heavenly Whole Wheat Bread
Sageca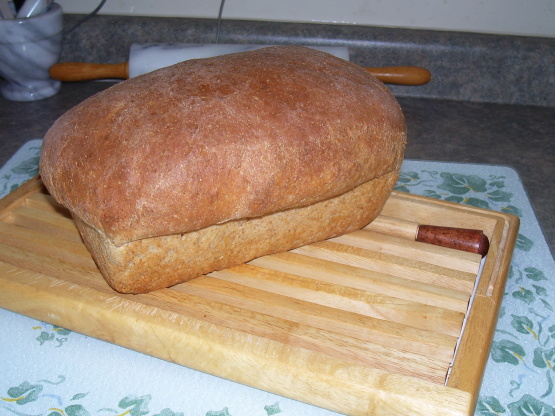 This is our best whole wheat bread recipe. Give it a try as MarshaD did, and enjoy it with great results. This recipe really should be called Marsha's favourite bread as I would never had posted it if not for her great reviews and comments. So give my sisters bread recipe a try too.

I use my bread machine on a weekly basis, and I'm always on the lookout for a good recipe. This is one of the best wheat bread recipes I've tried in a while! Not only does it taste delicious, but it has a superb keeping quality. It's still nice and fresh days after baking! A keeper for sure. Thanks!
Mix all in your bread machine, in order to your machines instructions.
Press start, for a basic light crusted bread.
Watch as machine is kneading making any adjustments as needed.
Flour is tempermental, so it could use a little more water, or a little more flour.
Should be a ROUND soft sticky ball of dough.
Remove after baked to cool.