Heavenly Toffee Chip Fudge
Juenessa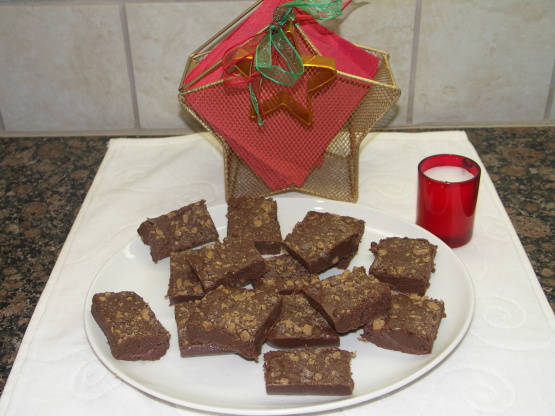 From Land O'Lakes. ***Edited 12/22/2006 - I had not made this recipe and after the one reviewer said it was dry, decided to make it tonight. I decreased the powdered sugar to 2 2/3 cups and it turned out wonderful. My husband and children loved it. It is not dry or crumbly at all --as you can see from my pictures. I refrigerated the fudge for 1 1/2 hours and then cut it. I don't know if using less powdered sugar was the key. It might be that if you refrigerate it for too long, it is harder to cut. Please give it a try--it is very creamy and the toffee pieces give it a nice crunch!

My last attempt at making fudge was a disaster so I was quite pleased when this one worked out so perfectly! I didn't even have a hand mixer (I just beat it with a wooden spoon until it was smooth - boy were my arms tired! LOL But it worked!) Very creamy and delicious - I gorged myself on it and regret that now, but will probably do it again tomorrow! LOL I used Ghirardelli chocolate and a combo of plain toffee chips and chocolate covered ones. Thanks so much for the recipe Juenessa!
In a large microwave-safe mixer bowl, combine the butter, milk and chocolate chips.
Microwave on HIGH for 1-1/2 to 2 minutes or until butter and chocolate chips are melted.
Stir in confectioners' sugar and vanilla; beat at medium speed, scraping bowl often, until smooth (2 to 3 minutes).
By hand, stir in 1/2 cup toffee chips. Spread in a buttered 8-inch square baking pan.
Sprinkle 2 tablespoons toffee chips over top; gently press into fudge.
Cover; refrigerate until firm (1 to 1-1/2 hours).
Cut into squares.
Store refrigerated in airtight container.