Heavenly Strawberry Dessert
Bri22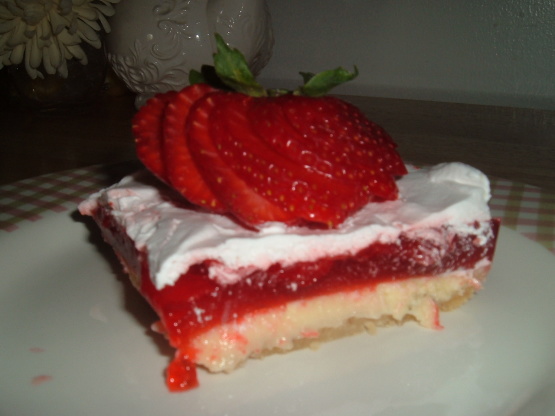 Here is a wonderful dessert, IF you love strawberries, you will love this dessert. *Please be sure to Bake the cream cheese layer first before you add the strawberry layer*.

Top Review by Bri22
OMG!!!! I don't know if I have the words to describe how great this is. It taste exactly like New York style cheesecake with strawberry topping. The crust is delicious, the cream cheese layer is sooo rich and then the strawberry layer sooo sweet but refreshing. My husband the alien that he is hates strawberries but we have a "No Thank You bite" rule in my house so he had one bite....then two slices!!! My 3 year lod son loved it. Family favorite for sure!!
For crust.
Mix flour,Brown sugar,and chopped nuts together, cut in the butter. Pat firmly into a greased 9x13 pan.
Second Layer.
Mix sugar, cream cheese, vanilla and 2 eggs. Blend well till smooth.
Pour onto the crust.
Cook 15 minutes at 375°F.
Third layer.
On stove top in a pan, combine, jello, sugar, cornstarch, salt, and water. Cook till clear and bubbly. Take off stove cool a few minutes, add sliced fresh strawberries. Cool a few minutes more add on top of cream cheese layer. Let set up for about 30 minutes in fridge.
Forth layer.
Top with whipped cream or cool whip. Garnish with additional strawberries.