Heavenly Raspberry Almond Cookies
loof751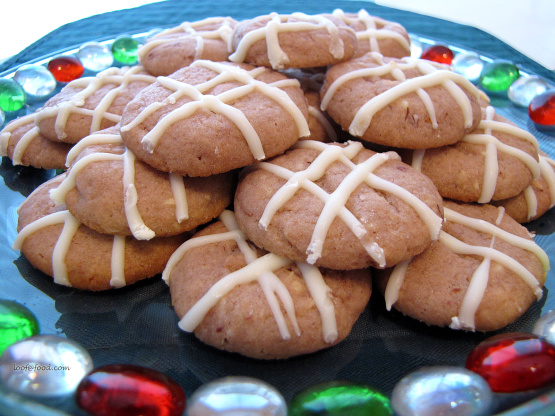 Perfect for holidays or anytime! From Cooking Pleasures magazine.

Lovely and delicate almond cookies! I drizzled mine with just a little melted white chocolate instead of topping with the almonds. The raspberry flavor is very subtle here and I would probably try to find a way to increase that flavor next time. Thanks for sharing your recipe!
Heat your oven to 375*F. Coarsely chop 1 cup almond slices. Reserve remaining almond slices for garnish.
In a large bowl, beat butter, sugar and brown sugar at medium speed 2 to 3 minute or until light and fluffy. Beat in the egg, raspberry jam, almond extract and vanilla until blended.
In a medium bowl, stir together 2 1/2 cups of the flour and baking soda. Beat into butter mixture at low speed until well blended. If the dough is too sticky to handle, add more flour 1 tbls. at a time. Stir in chopped almonds.
Roll rounded tbls. of dough into 1 inch balls; place about 3 inches apart on ungreased baking sheet. Press down lightly on cookies to flatten slightly. Top each cookie with 3 reserved almond slices, pushing one edge of each slice into dough.
Bake 10-12 minutes or until lightly browned. Remove cookies from the oven. Gently lift almonds with tip of knife, if desired. Cool on baking sheet 1 minute. Place cookies on wire rack; cool completely. Lightly sprinkle with powdered sugar before serving. Enjoy!
Note:.
To toast almonds, place on baking sheet; bake at 375*F. for 4 to 6 minutes or until light golden brown. Cool.