Heavenly Quinoa With Asparagus (Gluten-Free and Vegan)
RSTmom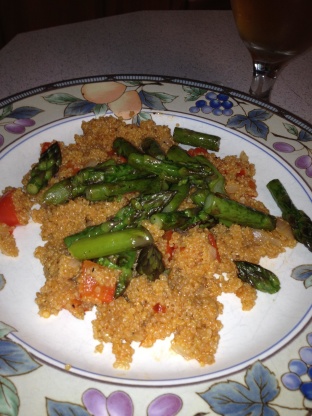 This dish is nourishing soul food for me. The spices make the simple ingredients come alive. My friends say they feel super-human after eating this. You may not have leftovers!

Heavenly is right: quick, easy, delicious—perfect in the spring when asparagus is in season. Why did I wait so long to try quinoa? We used Imagine Organic No-Chicken Broth and Hungarian paprika, and it was *fabulous*. Even my gun shy 6-year-old ate it up!
Saute 3 cloves of garlic with onion in olive oil in small deep pan until fragrant.
Add red bell pepper and red pepper flakes briefly.
Add quinoa and cover with broth.
Add lots of paprika and turmeric, to taste, with a big pinch of dried basil and salt.
Cover and let simmer ~ 25 minutes.
While quinoa cooks, rinse asparagus and break off the woody ends where they snap naturally.
In separate frying pan, heat oil and begin to saute asparagus.
About a minute before asparagus reaches desired doneness, add remaining garlic, finishing with it mostly raw (Flash-heat spinach here).
Serve asparagus cut on top of quinoa and enjoy!