Boomette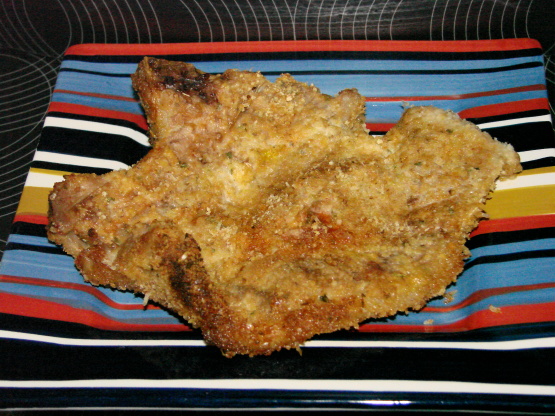 These pork chops are absolutely delicious. There are many breaded pork chop recipes out there, but this one is better than most due to the spice rub that the pork chops sit in for several hours before getting dipped in the wet ingredients and the breadcrumb/Parmesan cheese mixture. Oh my goodness! Dinner heaven. Now, I like to serve these with ligonberry jelly or jam .....it goes fantastic with them. If you don't have that, don't let that put you off trying this recipe, it's great without it too. But I got hooked on the ligonberry stuff when another recipe for Swedish meatballs called for it (most recipes for Swedish meatballs do) .... and I discovered obtaining some was as easy as visiting your local IKEA store. They're similar to cranberries, but less tart, and you start to wonder how you lived without them, lol.

We really enjoyed these! I think they're the best breaded chops I've come across so far. The seasonings are perfect. I used four boneless chops and panko- which made them incredibly crispy, yet tender on the inside. I cooked them maybe ten minutes longer, and on the bottom rack of the oven. Because they came out so flavorful and crunchy, they would also stand up well to a pork or country gravy, a salad topping of arugula, red onion, and grape tomatoes drizzled with balsamic vinaigrette, or even fresh mozzarella and spaghetti sauce, in lieu of Chicken Parmesan. But they're delicious as is! I served them with Au Gratin potatoes, corn, and a side salad. Scrumptious! Straight to the keeper file they go.
1) In a small bowl, combine the first seven ingredients; rub over both sides of pork chops. Cover; refrigerate 1-4 hours.
2) In a shallow dish, beat egg and milk. In another shallow dish, combine breadcrumbs and Parmesan cheese. Dip pork into the egg mixture, then into the crumb mixture.
3) Spray a broiler pan (with a rack) with cooking spray. Place pork chops on the rack. Bake at 375 degrees F for 30 minutes. Remove from oven, flip the chops over, and bake on second side for about another 30 minutes.