Heavenly Oatmeal Bars Jordan Pond House
Katzen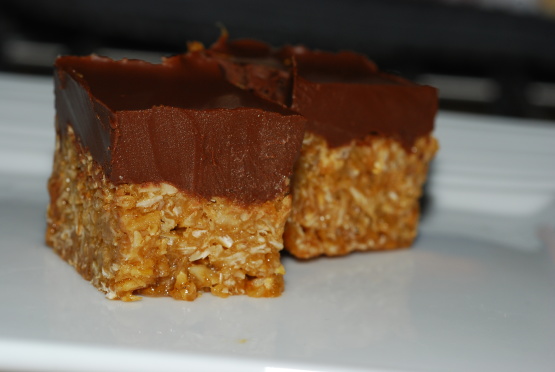 Another great gift from Lora Brody. She says, "Crisp, buttery oatmeal bars with a thick, creamy chocolate and peanut-butter glaze, they're a specialty of this restaurant in Maine's Acadia National Park".

Excellent bars. I was looking for a sweet and salty bar and this was what I was looking for. I made half a recipe and added 1/4 c. peanut butter to the bar mixture plus 2/3 c. peanuts in place of some of the oats. I am having a hard time staying away from them.
Preheat oven to 350 degrees F.
Grease a 13x9-inch baking pan.
Beat butter and sugar in a large bowl with electric mixer until fluffy.
Stir in corn syrup, oats and vanilla with wooden spoon.
With buttered fingers, pat mixture evenly into prepared pan.
Bake in middle of oven 16 minutes. (Dough will still look moist near center. Don't overbake!).
Cool in pan on rack until lukewarm.
Glaze: combine the semisweet chocolate chips and creamy peanut butter in a small saucepan. Stir over low heat until chocolate melts and mixture is smooth.
Spread warm Glaze over top.
Cool completely (may be refrigerated) before cuting into 2x1-inch bars.