Heavenly Lemon Bread Pudding
cicik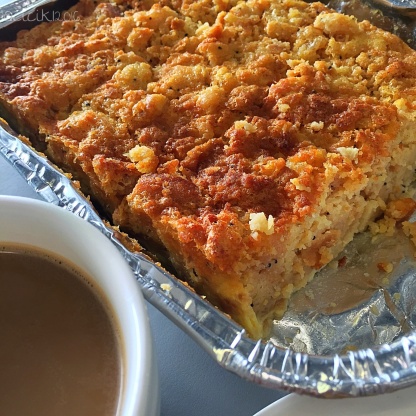 This bread pudding is similar to a souffle. It will, in fact, "fall" somewhat as it cools, but you won't be disappointed with its creamy tartness. This recipe is from Texas Cooking.

This recipe is so decadently delicious! I adore the taste of fresh lemon and the lemon flavor truly shines in this recipe. A dessert this fabulous could easily be prepared for guests and would be considered the Grand Finale for any occasion! Wonderful recipe, Miss Annie! A true delight!
3

cups of day old French bread or 3 cups Italian bread, in 1/2 inch cubes

4

teaspoons grated lemons, zest of

1

cup whipping cream

1

cup whole milk

1

cup sugar

3

tablespoons butter, cut into small pieces
1⁄4 teaspoon salt

4

large eggs, separated
1⁄2 cup fresh lemon juice
Preheat oven to 325°F.
Butter the bottom only of a 2-quart casserole or soufflé dish.
Combine bread cubes and lemon zest in large bowl.
Set aside.
Combine whipping cream, milk, sugar, butter and salt in a heavy saucepan.
Over medium heat, cook until butter melts, stirring occasionally.
Pour over bread mixture, and toss.
Allow to cool.
Lightly beat the egg yolks, then beat in the lemon juice, and stir into the bread mixture.
Set aside.
Beat egg whites in large bowl of electric mixer until stiff peaks form.
Do not overbeat.
Gently fold egg whites into bread mixture.
Pour bread mixture into prepared dish, and bake for 1 hour, or until a knife inserted 1 inch from center comes out clean.
The top of the pudding should be golden brown.
Cool on a wire rack for 10 minutes.
Dust with confectioner's sugar, if desired.
Serve warm, at room temperature or chilled.
NOTE:*If your bread is less than a day old, you can"age" it by placing slices in a 300°F oven for 15 or 20 minutes, or until some of the moisture is baked out.