Heavenly Island Bundt Cake
Redsie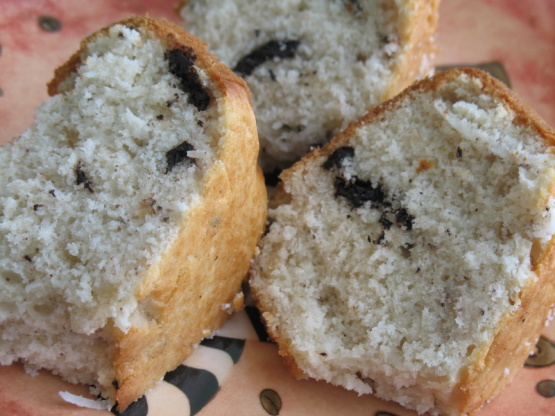 Wanted to make a cake for a friend's birthday and was looking for something that was a tad indulgent without completely going overboard. This cake achieves the perfect balance by pairing a lighter cake batter with some luxurious additions. The flavors here work so well together and are also quite attractive to the eye. Even better, the cake uses a mix making it quick to make and a no brainer for those of us who are baking challenged. Though the technique for preparing the batter for this cake comes from none other than the Cake Doctor, the flavor combination is mine.

Top Review by Redsie
Wow! Can't believe this is from a cake mix!! Used a whole bar of dark chocolate (95%) and, as I couldn't use nuts (allergies), I added candied lemon and orange zests. Only problem I had was that the cake broke when I took it out of the pan (maybe I didn't wait long enough to take it out??). Thanks Toni - this recipe is a keeper!!
1

(18 ounce) box white cake mix (with or without pudding in the mix)

1

cup water
3⁄4 cup egg white (about 4-5 large eggs)
1⁄2 cup applesauce
2 1⁄2 ounces dark chocolate (look for a high quality one such as a Belgian dark chocolate)
1⁄3 cup coconut
1⁄3 cup macadamia nuts
Preheat oven to 350°F Prepare a large bundt pan with a light coating of cooking spray.
Take the bar of chocolate and break it up into small shards. Similarly, chop the macadamia nuts into pieces.
In a large bowl mix together the cake mix, water, egg whites and applesauce. Beat with mixer for 2 minutes. Add the chocolate, coconut and macadamia pieces to the batter, stirring to fully incorporate.
Pour the batter into the bundt pan and bake 35-40 minutes. The cake should be resistant to touch and a toothpick or bamboo skewer should come out clean if inserted into the middle of the cake. Cool in pan 10 minutes before inverting onto a serving plate. Allow to completely cool before serving.