jahoey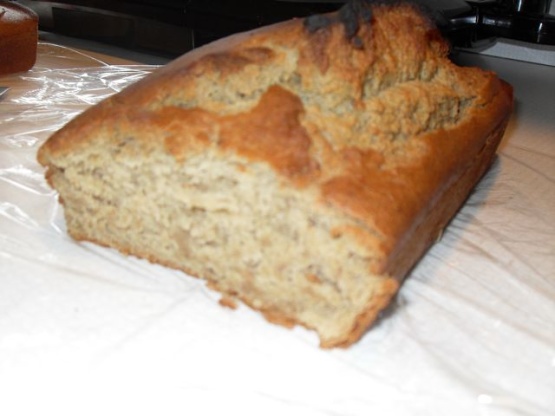 I got this recipe from a wonderful friend who is a chef and cooking instructor in Canada. I love it because it is super-moist, and has intense flavor. In a test of 5 different banana bread recipes, this is the one my husband and neighbors liked the best.

This is the best banana bread I have ever made. It is so moist that is really needs to stand a while before you cut into it, if you can wait that long! It was a contribution to my DH 'Goody Day" at work and disappeared in minutes. Needless to say, it was a success. Thanks!
Mash or purée the bananas and buttermilk until smooth.
Add the baking soda and mix.
This activates the baking soda and neutralizes the soda taste.
Cream the brown sugar and butter together until smooth.
Beat in the egg.
Add the banana purée and combine.
The mixture often appears curdled at this stage.
Add the baking powder to the flour; add gradually to the banana mixture.
Stir just enough to combine evenly.
Flavour with the extract.
Pour into sprayed or greased pans.
Fill the pans 2/3 full for even cooking.
Bake in a preheated 375°F oven until set in the centre.
A larger loaf pan will take about 45-50 minutes.
Reduce the cooking time for smaller pans.
Use a wooden skewer to test the centre.
Leave in the pans for 10-15 minutes before turning out.
Do not leave in the pans as the loaves sweat and become soggy.