Heather's Pumpkin Bars W/ Frosting (Only 135 Calories!)
DuChick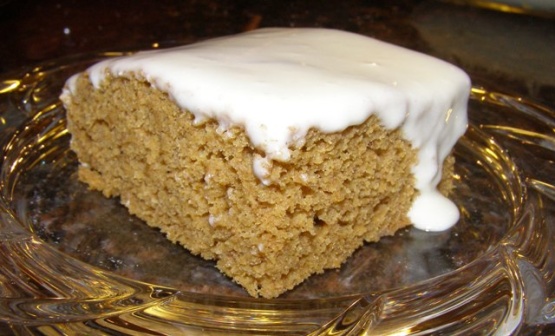 I love pumpkin bars, but hate the fat that is usually in them. You won't miss it here! There is not one drop of oil added to this recipe, moreover, it adds wheat flour for whole grain goodness and is reduced sugar. Makes a great big ban pan and a very good sized serving, each serving contains less than 140 calories and only 2g of fat! FYI - only 77 calories each if you omit the frosting.

We really liked these; even my "I don't like pumpkin" kid enjoyed them. Instead of applesauce I used a cup of Recipe#397373 so mine were super squash-y tasting. Very moist and always looked a tad underdone, but really good with the frosting.
Preheat oven to 350 and prepare 15x10x1 baking pan - I use a stone one for this recipe.
Beat together sugars, applesauce, pumpkin and egg substitute in a large bowl.
Sift together dry ingredients in a medium bowl.
Mix dry ingredients into sugar mixture, mixing well.
Pour into a 15x10x1 pan and bake for 23-27 minutes.
Cool completely (overnight).
Mix together icing ingredients, adding more milk if necessary. Spread over bars.
After frosting has set, store bars in refrigerator between layers of parchment paper.