Heather's Mexican Roll-Ups
teresas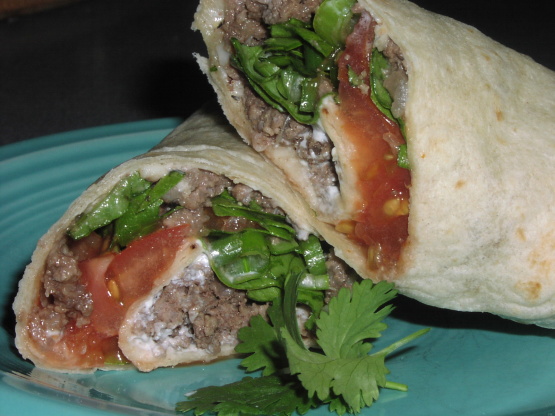 I found this on The Biggest Loser website. I wanted to put it in my cookbooks and thought I would share. Information about this recipe from the website. "Heather Hansen relies on this easy rollup to help toward her weight loss goal. To keep from getting bored with it, she alternates between making it with Jennie-O Turkey Store Extra Lean Ground Turkey and extra-lean beef. Though she generally eats the turkey naked, she prefers to spike it with 1 1/2 teaspoons of Mrs. Dash Southwest Chipotle Seasoning or other salt-free Mexican seasoning, which she mixes into the meat before cooking. Either way, it's a great option for a quick dinner."

I made as posted using the lean ground beef and found it on the bland side...I would add lots of different spices to the meat mixture...along with some minced garlic and chopped onion...some chopped cilantro would also be good...made for Spring 2012 PAC
Place a small nonstick skillet on medium-high heat until it is hot enough for a spritz of water to sizzle on it.
With an oven mitt, briefly remove the pan from the heat to mist lightly with oil spray. Add the turkey or beef to the pan.
Cook, breaking into chunks with a wooden spoon for 3 to 4 minutes, or until lightly browned and no longer pink.
Transfer the turkey or beef to a plate. Cover to keep warm.
Return the pan to medium heat.
Place the tortilla in the pan. Cook for about 30 seconds per side, or until just warmed.
Transfer to a serving plate.
Starting at one side, spread the sour cream evenly over two-thirds of the tortilla.
Scatter the reserved turkey or beef over the sour cream. Top with the lettuce, tomato, and salsa.
Starting at the filled end, roll the tortilla tightly into a tube, being careful not to tear it. Serve immediately.