Hearty Zucchini and Tuna Casserole
adymommy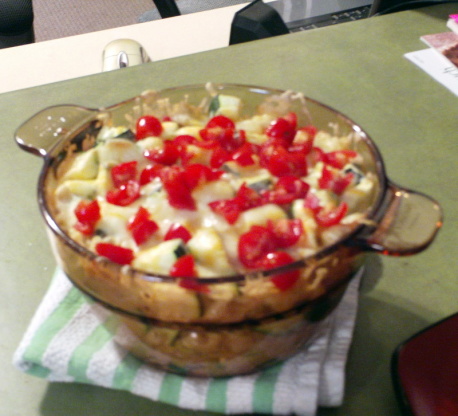 This is a nice change from the traditional tuna casserole. You can substitute canned salmon for the tuna and can also make this without the zucchini (or use some mixed veggies or broccoli instead). My young daughters love this recipe (as long as I peel the zucchini before putting it in the casserole)!

This was a very good recipe. My 3 year old tried it without complaint. He would have eaten it if I would have peeled the zucchini, I think. I followed the recipe with the exception of chopped chunks of zucchini instead of sliced. I don't like mushy zucchini :) Will make this again!
Drain and flake the tuna.
Set aside.
Cook noodles according to package directions.
Drain and rinse in hot water.
Combine noodles with the tuna, celery and green onions.
Blend in the sour cream, mustard, mayo, thyme and salt.
Spoon half the mixture into a buttered 2-quart casserole.
Top with half the zucchini.
Repeat layers.
Top with the cheese.
Bake uncovered at 350 for 30 minutes or until hot and bubbly.
Sprinkle with the chopped tomato.