PaulaG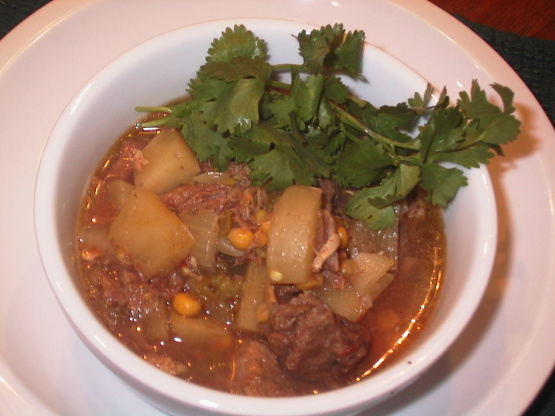 Hearty winter stew is slow-cooked on the stove but I think it will also work in a crockpot on low increasing the cooking time to at least 8-10 hours. This hearty soup is delicious is hearty whole wheat bread or popovers. Recipe source: Bon Appetit (October 1987)
Top Review by PaulaG
I used the crockpot for a wounderful meal. I did find it necessary to cut back on the veggies as the pot was filled to the brim. Instead of cooking the beef and chicken seperate, I used extra lean beef stew meat which was mixed in with the veggies and then placed a couple of leg quarters (skin removed) on top of everything. When the chicken was done, I removed it from the bone and returned it to the pot. I left out the turnip and instead of lima beans, I doubled up on the corn. To complete everything I added about 4 chopped green chili which provided a nice kick. Thanks, I am sure I will prepare this again during the cold months ahead.
Place chicken, beef and bones in a 12-quart pot, adding enough water to cover and bring to a boil.
Reduce heat, cover and simmer until meat is tender (2 1/2- 3 hours).
Remove chicken and beef. Let cool and cut meat and chicken off bones, discarding skin and bones.
Strain stock. (can be prepared one day ahead to this point), cover and refrigerate in two containers (beef and chicken in one and stock in another. Degrease stock before continuing).
Degrease stock and bring to a boil in dutch oven.
Cut chicken and beef into small (1/2 inch) pieces and add to stock.
Add vegetables (potatoes- tomatoes) to pan.
Reduce heat, simmer stirring occassionally for 6-7 hours (or turn into a crockpot on low for 8-10 hours).
Season with salt, pepper, and pepper sauce.
Garnish with cilantro or parsley, if desired.