Hearty Vegetarian Tofu Chili
Elodie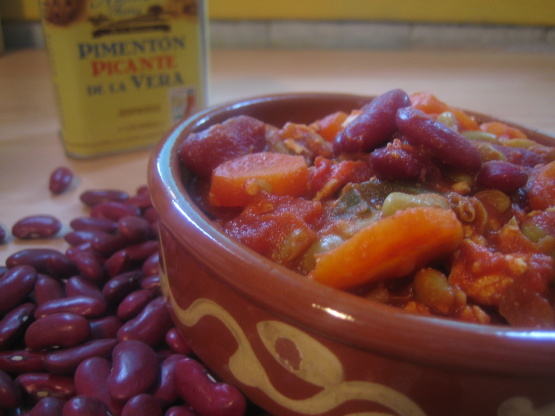 This is a delicious colourful chili with a perfect blend of many vegetables with tofu in a thick spicy tomato base. This original recipe came from Runner's World magazine, although I have altered it to suit my likings. Frying tofu gives it a more meat like texture. For those who like chili very spicy, more chili powder may be added.

I made this exactly as stated except I used a red bell pepper (more antioxidents). The flavor & texture was perfect!! Be sure and lightly brown the tofu as directed. Thanks LU2Bake for the recipe.
Saute first 4 in meduium heat.
Add tofu, cumin, hot sauce, and salt and pepper and saute until crisp and lightly browned (10 min).
Add rest of ingredients (beans, tomatoes, tomato sauce, carrots, and chili powder).
Boil, reduce heat and simmer 45 to 55 minutes.