Hearty Vegetarian Lentil Soup
Parsley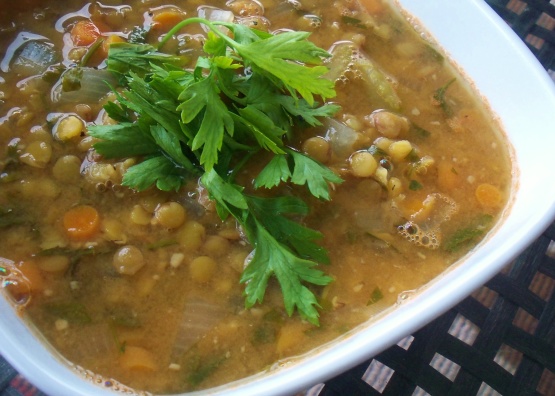 This comes from my favorite cookbook, Vegetarian cooking for everyone by Deborah Maddison. I LOVE this soup. It is earthy & so satisfying. I make it at least once a month and wanted to post for nutrition info! This soup gets better as it sits!

This turned out a little bland. I thought for sure that it would be rich and flavorful because of the vinegar and dijon, but I'm thinking that maybe I should have added more than a tablespoon of each as the recipe indicates. Also, I did this in the slowcooker so I really though the flavors would have come out more. I think I'd make this again, but would probably add some fresh thyme and more dijon to jazz it up a bit.
In soup pot, sauté onion in oil until soft.
Work minced garlic into 1 teaspoon of salt to form a paste and add to onions.
Mix in tomato paste. Add celery, carrot bay leaves and parley. Cook 3 minutes.
Add lentils, 2 quarts of water and 1/2 tsp of salt and bring to a boil.
Lower heat and simmer 25-30 minutes till everything is tender.
Stir in mustard and vinegar. Garnish with celery leaves and parsley if desired.