Nan R.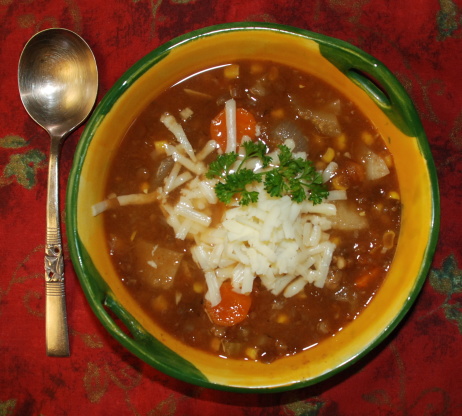 This recipe I concocted while chatting on the phone with a friend. Really not paying much attention to proportions, just adding a little of this and that. Well it tasted so good that I figured I'd better put pen to paper and write the ingredients down before I forgot. It is so unbelievably simple to make and is great comfort food. I also added 1/2 can of leftover corn and shredded sharp cheddar cheese as seen in photo.

Absolutely outstanding, gives one that feeling of being back home. Only one thing though, it took a lot longer to get it going, 15 mins instead of 10.
Add all ingredients EXCEPT POTATOES to a medium pot.
You may add a little water if you like more broth.
Bring to a boil then let simmer for 45 minutes to 1 hour, stirring occasionally.
Add potatoes, continue to simmer on med low for another.
15 minutes or until potatoes are tender.
Enjoy.