Hearty Vegetable and Beef Soup
chia2160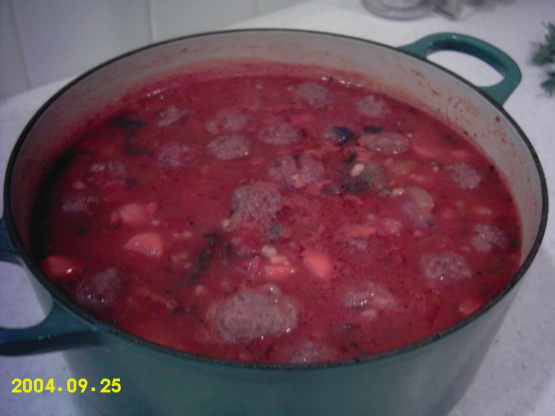 Delicious soup is wonderful with whole wheat bread or rolls. Recipe source: Bon Appetit (January 1983)

i changed this recipe slightly (don't i always? lol) but i loved the end results! i like my soups chunky unless it's a bisque, so i cut all the veggies by hand and used fresh parsley, thyme, marjoram, basil, and chives from my garden, which miraculously is still growing profusely. since the recipe said to grind the meat in the processor i decided to make meat balls instead and browned them with the onions& garlic before adding the rest of the ingredients. i had v8 juice that i wanted to use up so this was great, it was very thick as it simmered so i added 2 c of extra beef broth, and it worked really well, thanks.
Using a food processor and the steel knife mince parsley and set aside.
With the food processor running drop garlic through the feed tube and mince. Add onions and chop using on/off turns. Transfer onion/garlic mixture to a large soup pot.
Place meat in the food processor work bowl and chop using 6-8 on/off turns, then continue grinding until desired fineness is achieved. Add meat to pot and cook over medium heat for 6-8 minutes or until browned.
Clean out work bowl of food processor and then chop tomatoes using 4 on/off turns. Add to meat mixture in pot.
Slice potato, carrots and celery using slicing disc. Add vegetables to pot along with tomato juice, broth, barley, salt, herbs and pepper. Cook over medium heat about 1 hour.
Discard bay leaf and stir in reserved parsley.