Hearty Vegan Navy Bean Soup
emilyv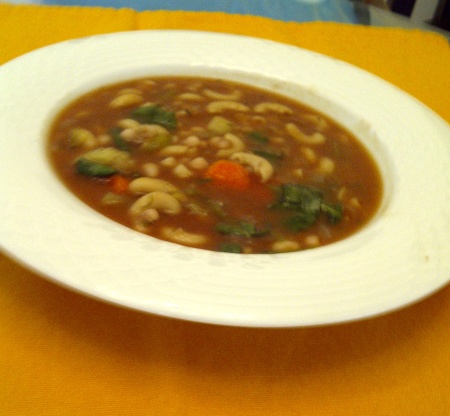 This is an excellent vegan recipe, its very hearty and flavorful. Don't write off this recipe for lack of meat, its really fab.

This was a really delicious vegan soup. Its really hearty and filling. It always seems like there is a little something missing in soup stocks for vegan recipes, but the mix of spices really make this soup very flavorful. I couldnt stop eating it. Its great with warm foccacia bread too, FYI..
Wash and pick over beans.
Cover with water and soak overnight, or quick soak.
Discard soaking water, rinse beans and put in a large soup pot.
Add the 8 cups of water and bring to a boil.
Cover tightly and reduce heat to a low simmer.
Add carrots.
In a nonstick pan saute onion in balsamic vinegar until it caramelizes (this takes a while on low heat).
Add garlic, celery leaves, and cabbage.
Continue sautéing, adding more liquid as necessary.
When the mixture has cooked down somewhat, add it to the beans.
Add tomato sauce, bay leaves, and spices.
Simmer *very* slowly for 2 hours or until beans are tender, stirring occasionally.
Remove bay leaves and serve with hard bread and salad.