Hearty Quinoa With Sauteed Apples and Almonds
PaulaG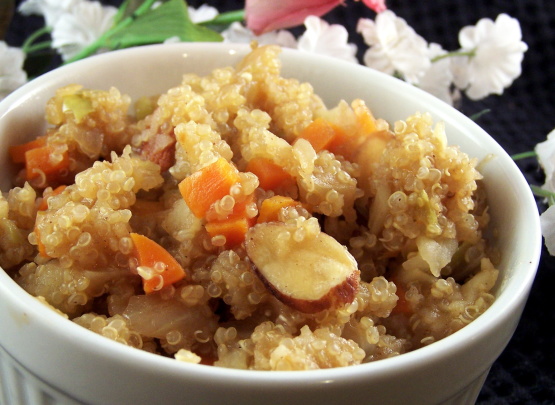 They suggest using a little curry powder to replace the cinnamon, i will be using both. Serve with chicken or pork Cooking light October : calories 258, fat 7.4 (sat 0.8), carb 42.4
Place quinoa in a fine sieve, place sieve in a large bowl. cover with water, using your hands, rub grains together for 30 secons. Rinse and drain. Repeat procedure twice. Drain well.
Heat 1 tsp olive oil in saucepan over medium high. Add onion, carrot and garlic. Sautee 5 minutes until tender and carrot starts to brown. Stir in broth, quinoa, salt and cinammon. Bring to a boil. Cover, reduce heat and simmer 20 minutes until all liquid is absorbed. Remove from heat. Fluff with a fork, keep warm.
Heat remaining 1 tsp oil in a nonstick skillet over med high. Add apple to pan, saute 6 or 7 minutes until begins to brown. Add apple, almonds and pepper to quinoa, tossing to combine.