Hearty Pumpkin Chowder (or Butternut Squash)
ChrisF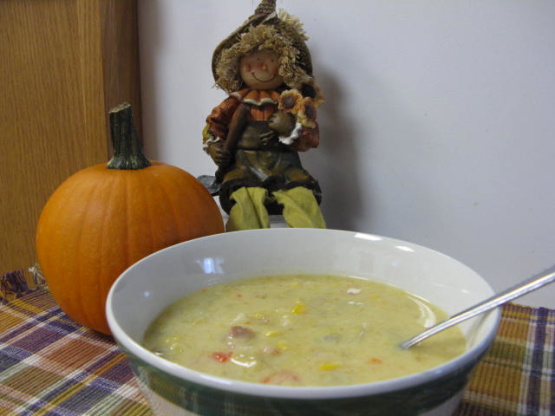 Warm, filling and savory! This is a rich easy chunky homemade soup that really satisfies. I leave out the ham and use vegetable stock sometimes and it becomes a yummy vegetarian dish.

Loved the soup. The only thing I'll change the next time would be to saute the celery and onions first and for longer. It was way too crunchy for my family. I used a butternut squash for the pumpkin, having never eaten one before I was leery of making this, but the soup was excellent. It had a unusual taste to it and is something different to make.
Saute onion, celery, pumpkin, ginger and garlic in butter 5 minutes over medium heat.
Stir in broth, potatoes, lima beans, corn and bell pepper.
Boil then cover and simmer 15 minutes.
Add ham.
Whisk milk, flour, salt and nutmeg in a medium bowl.
Stir milk mixture into pot and bring to boil.
Stir a few minutes until thickened.