Hearty Potato Ham Chowder
Prep 15 mins
Cook 30 mins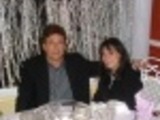 When you are looking for a soup that's a meal, this will fit the bill.
Directions
Peel and dice potatoes.
In large saucepan, melt butter. Saute scallion and green pepper until tender. Add potatoes, 2 cups water, and seasonings. Cover and simmer until potatoes are tender.
Make a paste of flour and 1/3 cup water. Stir into potato mixture.
Add milk and cook until slightly thickened. Stir in undrained corn and ham. Heat through.
Taste, adjust seasoning, and sprinkle with chopped parsley.
Most Helpful
Jackie, your not kidding when said it's a meal! I used red pepper as that is what I had and for the milk I used fat free evaporated. Skipped the butter and cooked everything in the water that I added a bit of chicken base too. I very much liked that the spuds suffered a split personality in this soup. Some dissolved thickening the soup and some remained in well cooked chunks. Yummy :D

It was ok. Had all ingredients on hand.

Absolutely wonderful recipe. Of course me being from Louisiana I had to kick it up a notch by adding cajun seasoning, trinity (onions, celery, green peppers, parsley), Tasso (Smoked Meat). I also made it on the lighter side by using turkey ham and turkey tasso. Sooo yummy!!