Hearty Potato Ham Chowder
Annacia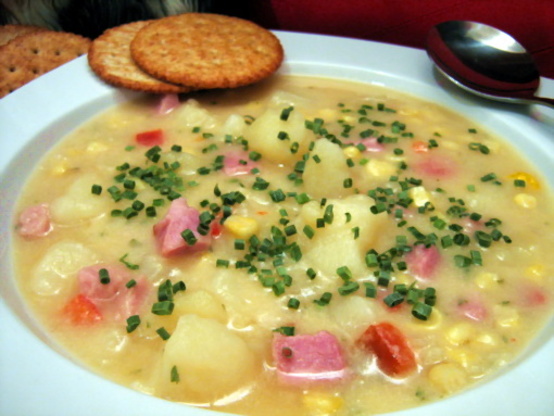 When you are looking for a soup that's a meal, this will fit the bill.

Jackie, your not kidding when said it's a meal! I used red pepper as that is what I had and for the milk I used fat free evaporated. Skipped the butter and cooked everything in the water that I added a bit of chicken base too. I very much liked that the spuds suffered a split personality in this soup. Some dissolved thickening the soup and some remained in well cooked chunks. Yummy :D
Peel and dice potatoes.
In large saucepan, melt butter. Saute scallion and green pepper until tender. Add potatoes, 2 cups water, and seasonings. Cover and simmer until potatoes are tender.
Make a paste of flour and 1/3 cup water. Stir into potato mixture.
Add milk and cook until slightly thickened. Stir in undrained corn and ham. Heat through.
Taste, adjust seasoning, and sprinkle with chopped parsley.