Annacia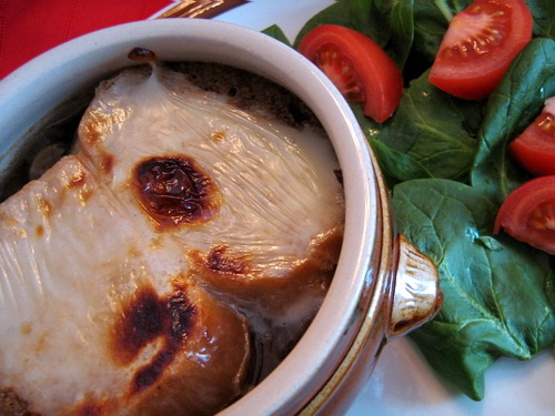 A full-meal soup as delicious as the restaurant classic. And a great way to use your leftover pot roast or oven-roasted beef and not waste the drippings. Its a meal in a bowl but a green salad and some hearty bread are welcome additions if you want them.

This is excellent. Very simple and made with leftovers but you would never know that and neither would your guests! It's a rich flavored soup that makes you savor every spoonful. I used fat free Swiss for the cheese. This was a wonderful dinner and I'll be making this soup whenever I have leftover roast. Thank you killer for a true keeper.
2

onions, sliced in rings
1⁄2 lb leftover cooked beef, diced (more or less as desired)

2

cups leftover vegetables, diced (carrots, potatoes, mushrooms, whatever you have, however much you have.)

1

cup beef dripping, degreased (or as much as you have)

3

cups beef stock (or enough to bring the total of dripping and stock to 4 cups)

4

slices stale bread (A hearty type like a sourdough, hearty wheat, rye, pumperknickel, etc.)

4

slices provolone cheese or 4 slices swiss cheese
Heat olive oil and butter together in a pan large enough to hold the onions and broth.
Saute onions very gently in half olive oil and half butter until soft and golden but do not allow them to brown.
Add beef and vegetables. Heat through.
Add dripping and stock. Bring to boil and simmer 10 minutes.
Divide into oven-proof bowls. Float the stale bread on top.
Cover with the cheese and broil until the cheese bubbles and browns.