Hearty Onion Rye Bread (Bread Machine)
hans2977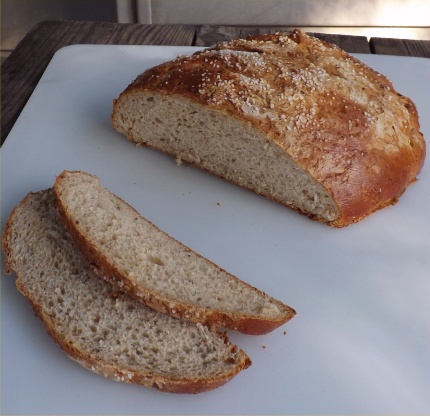 This recipe is based on one from Cooking Light. The original recipe is a sourdough Mennonite recipe, apparently from the Volga German community. Cooking Light simplified it by using yogurt instead of sourdough starter. I've reworked it for the bread machine. It made a big, beautiful and fragrant loaf.

This recipe is one of the best Onion Rye 's I have had in such a long time. I am so happy I found it, as I am not able to buy good rye in this part of Texas. Reminds me of my days in Jersey where we had good N.Y. Rye bread. The aroma in the house lasted all day long.
I will be making this often, as it is one of my favorite Rye's so far. My husband really liked it too.and wants me to make this again.
In a large skillet, heat the oil and saute the onions over medium low heat, stirring frequently, until they are golden brown, about 10 minutes. Remove from heat and cool completely.
Place the yogurt, egg, rye flour, 2 cups bread flour, caraway, salt and pepper in the bread pan in the order recommended by the manufacturer. Set and run on the dough cycle. Check about 10 minutes into the cycle and add as much of the remaining bread flour as needed to form a ball.
About five minutes before the end of the cycle (or when your machine signals), add the onions.
After the dough has risen, remove from the bread pan. Shape into a 7 inch round (or your preferred shape, and let rise.
Preheat oven to 350 deg.
Beat together the water and egg yolk and brush on the loaf. Sprinkle with the kosher salt, if desired. Make three parallel slashes across the top of the loaf, and place in oven.
Bake approximately 35 minutes or until loaf tests as done. Let cool completely before slicing.
Note: I used full-fat yogurt, as the Greek or Arabic yogurt I buy is full-fat. I also needed to add about 1/2 cup flour - this is always a judgment call, so be guided.