Hearty Italian Ratatouille Soup
Paula M.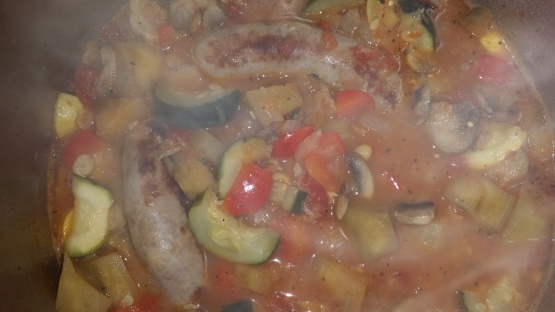 This blend of vegetables with Italian sausage will be sure to warm you up on a crisp winter night.

Superb soup. I love that it is full of chunky vegetables and the Italian sausage imparts divine flavor (and smell). Also, the fresh basil at the end is a great touch. Goes perfectly with hot crusty bread. Thanks for sharing this one.
Heat olive oil in large pot, and saute onion.
Remove casings from Italian sausage and cut up into 1 inch pieces, add to pan.
Cook sausage until brown about 10 minutes, remove from pan and drain half the fat.
Add the zucchini, squash, eggplant, red pepper, mushrooms and salt and pepper. Cook until tender, about 5 minutes.
Add the chicken broth, stewed tomatoes, and sausage to the pot, and bring to a boil.
Reduce heat to medium/low - low to a simmer for 20-25 minutes until vegetables are tender and sausage is cooked through.
Stir in fresh basil in last 5 minutes.
You can reduce the fat and calories by using a turkey based sausage, or make this a vegetarian dish by using a soy/tofu sausage or even garbanzo beans.