Olive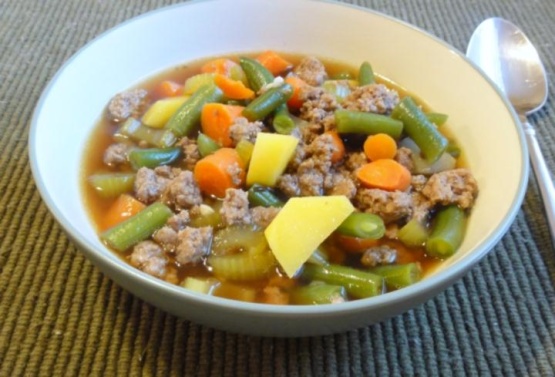 This came from Taste Of Home, Ground Beef Favorites(one of those monthly supermarket magazines). I also added cooked pasta, to make it even more heartier. Our kids really enjoyed this. Because it calls for bouillon cubes I omitted the salt listed, but that was our personal taste.

I've made this recipe many times. The whole family loves it! I let it simmer in the crockpot all day then add the noodles (precooked) just before serving. Thanks so much for sharing such fabulous recipe!
In a large saucepan, cook ground beef over medium heat until no longer pink; drain.
Add the remaining ingredients EXCEPT the green beans; bring to a boil.
Reduce heat; cover and simmer for 15 minutes or just until the potatoes and carrots are tender.
Add the green beans.
Cover and simmer 15 more minutes or until the beans are tender.