PaulaG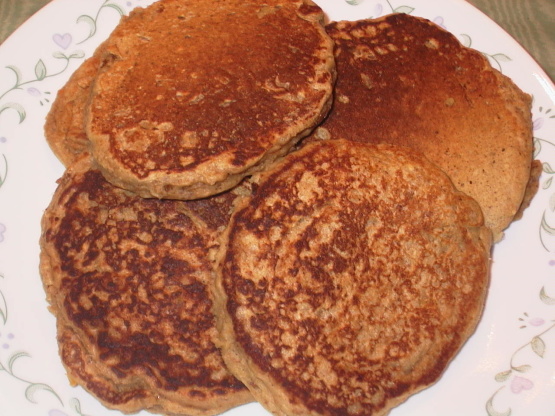 These are healthy pancakes, applesauce takes the place of oil. Whole wheat flour, cream of wheat, golden raisins and walnuts adds lots of fiber. The recipe comes from Cooking Light.

These pancakes are delicious! I wanted to use some farina I had on hand, and this recipe is perfect for that. I used pecans instead of walnuts and added 1 tsp. vanilla and 1/2 tsp. cinnamon to the batter. I used a mixture of butter/oil instead of applesauce. Thanks for this wonderful recipe.
Combine flours, farina, sugar, soda, baking powder, salt in a large bowl, stirring with a whisk.
Combine milk, applesauce,and egg in a medium bowl, stirring until well blended.
Add milk mixture to flour mixture, stirring until well combined; let stand 5 minutes.
Heat a nonstick grill or skillet over medium heat;coat pan with cooking spray; Pour about 1/4 cup batter per pancake onto griddle; SPRINKLE with 2 teaspoons raisins and 2 teaspoons nuts.
Cook 1 minute or until tops are covered with bubbles and edges look cooked; carefully turn over, cook 1 minute or until bottoms are lightly browned; Repeat; Serve with maple syrup.