Hearty German Farmer's Breakfast (Bauernfruhstuck)
Linky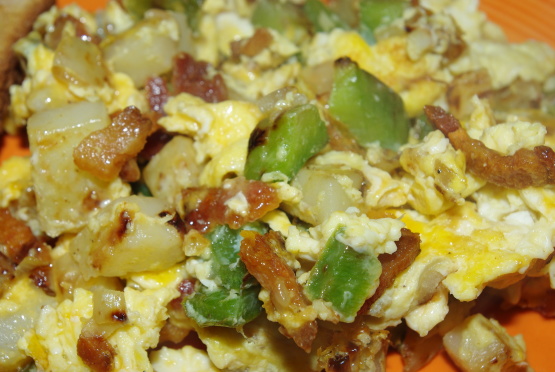 Great hearty rib-sticking meal for breakfast, lunch or supper! Very popular in my household. This is a versatile one-pan recipe-- you can sub or add ingredients as desired-- try ham, mushrooms, tomatoes, or chives. (Note: For an equally delicious simplified version of Bauernfruhstuck using frozen Potatoes O'Brien, please see my Easy Bauernfruhstuck (German Farmer's Breakfast Skillet)). Delicious! P.S. Any leftovers you have make a wonderful breakfast the next day--reheat a few seconds in the microwave (although I've been known to eat this cold), and serve with toast or stuff into a flour tortilla for a quick breakfast on-the-go.

Top Review by chris
My DH loved this! Reminded us of cold October mornings in Munich. The only things I changed was to use olive oil instead of bacon fat and black forest ham instead of bacon. Served it with hearty black rye bread with jam. Delicious!
In a skillet over low heat, cook bacon until crisp. Remove to paper towel. Reserve 2 tablespoons drippings; add potatoes, green pepper, onion, salt and pepper. Cook and stir over medium heat until the potatoes are golden brown.
Stir in eggs and milk, and cook and stir until eggs are almost set, about 2 minutes.
Reduce heat to low. Add cheese and bacon, stirring gently until heated through and eggs are set.
Serve immediately.
Leftovers are tasty the following day. Good wrapped in a flour tortilla for a breakfast burrito, breakfast on the go.
Serves 4 to 6.