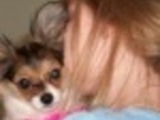 I love this recipe because it meets all my requirements: FAST EASY & GOOD! So nice to come in on a cold day and whip this together in 15 or 20 minutes. My family loves it.
Directions
Heat dressing in large saucepan on medium heat. Add onions; cook 10 minute or until golden brown, stirring frequently.
Add broth, 2 soup cans water and Worcestershire sauce; stir. Bring to a boil. Reduce heat to medium-low; simmer 5 minute.
Preheat broiler. Ladle soup evenly into 4 large ovenproof bowls. Top with croutons and cheese. Broil 2 to 3 minute or until cheese is melted.
Most Helpful
Now I don't have to go to a restaurant to get French Onion soup. I did not use croutons or broil it - just sprinkled on some mozzarella and let it melt. I also let it simmer slowly for about an hour. This is the first time I've ever made French Onion soup, and thanks to this recipe from Sandy it came out great.

This is a very nice, quick and easy to make soup recipe. It makes a nice subtle tasting soup that is very filling. I used 4 medium vadillia onions and seasoned them lightly with salt & pepper before carmalizing them in the Italian dressing. Thank you so much Sandy in Houston for sharing your tasty recipe.