Hearty Corn, Chile and Potato Soup
Julie F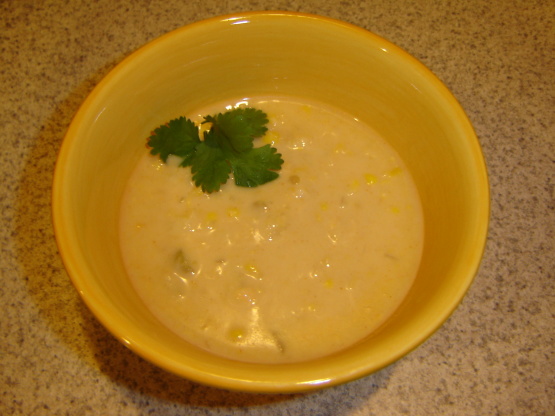 This is a great comfort food for those chilly evenings!

The recipe sounded interesting so I tried it. It was wonderful, but as I was making it I made a couple of changes. Instead of adding water to cook the potatoes I used 1 can of chicken broth. I excluded the can of whole kernel corn but did used 1 can of cream-style corn. I used New Mexico Hatch chilies which were frozen and chopped 3/4 cup. Instead of evaporated milk, I used heavy whipping milk. Instead of regular salt I used Himalayan salt with fresh crushed course black pepper. It was marvelous! The soup was tasty, creamy with a nice kick to it. The soup was served with homemade buns and was perfect for a nice snowy day like today in front of the fireplace.
Melt butter in large saucepan over medium-high heat. Add celery and onion. Cook for 1 to 2 minutes or until onion is tender.
Add water, potatoes, corn, chiles, bouillion, paprika and bay leaf. Bring to a boil, reduce heat to low, and cover.
Cook, stirring occasionally, for 15 minutes or until potatoes are tender.
Stir a small amount of evaporated milk into flour in a small bowl to make a smooth paste. Gradually stir in remaining milk.
Stir milk mixture into soup.
Cook, stirring constantly, until soup comes just to a boil and thickens slightly.
Season with salt and pepper.