Ceezie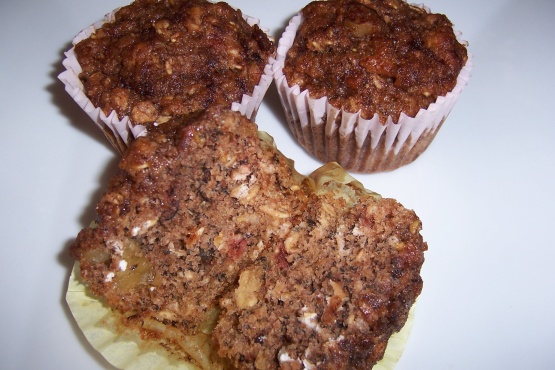 These muffins are healty and great for kids at breakfast time or for a snack in their lunch pail.

I gave this 4 stars. My family loved these muffins. I made these for our Sunday big breakfast. These were so good with great banana flavor and chewy just like I like a breakfast muffin. I was a bit worried about the amount of bananas. I used 5 bananas. But all turned out just fine. I didn't have whole wheat flour as I don't use it and I forgot to top them with cinnamon sugar topping and these were so good anyway. The only big problem I had was the order of ingredients. I did have to bake my muffins a bit longer but this could be my oven. I will make these again for sure. Thanks for posting a great recipe. Christine (internetnut)
Mix together egg, applesauce, bananas and nuts. Add in sugar and vanilla. Mix well.
Mix in oats, flour, baking powder and baking soda, just until moistened. Sprinkle with mixed cinnamon and sugar.
Place in baking cups till almost full. Bake at 375 degrees for 18-20 minutes.