Hearty Beef and Vegetable Soup With Mushrooms
Barb G.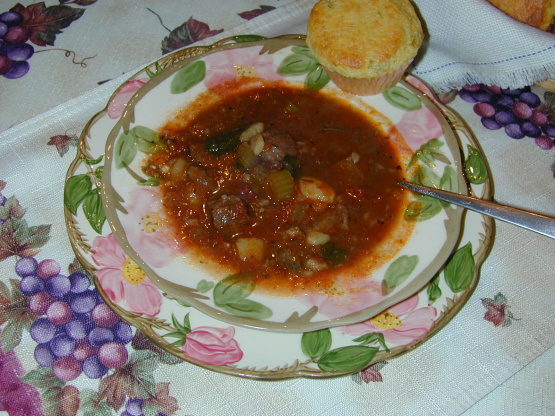 Quick cooking in the pressure cooker, but will taste like you cooked it all day. If you don't have a pressure cooker, do it stove top and cook until you think it's done!
In a 6-quart or larger pressure cooker mix together onion, carrots, garlic, celery, parsley, potatoes, beef, and tomatoes with their liquid and broth.
Close lid and lock.
Place over high heat and bring to high pressure (about 15 minutes, depending upon altitude). Adjust heat to maintain high pressure and cook 20 minutes.
Reduce pressure with quick release method by placing cooker in sink under cold running water.
Remove lid after pressure dissipates, tilting lid away from you to avoid a steam burn.
Stir in beer, Swiss chard, mushrooms, Worcestershire sauce, salt, and pepper.
Return to pot and bring to a simmer, covered (no pressure) over medium heat for approx 10-15 minutes.