Heartwarming Beef-Barley Soup
IngridH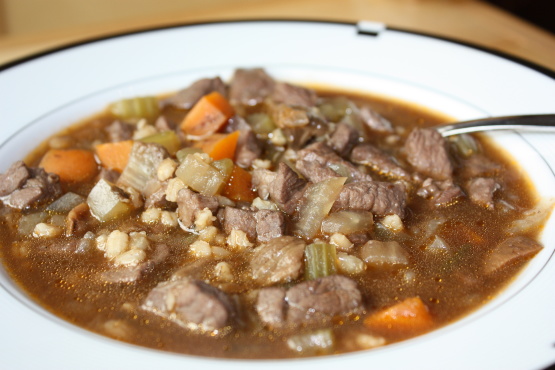 Enjoy this beef, mushroom, and barley soup now and then freeze individual servings to enjoy later.

This is a perfectly named soup! On a cold, damp day, the hearty flavors and textures really hit the spot, without doing any damage to my waistline. I made a few changes based on the ingredients that were on hand- lamb instead of beef, pearl barley instead of instant (added with 40 minutes of cook time left), and dried porcini's instead of fresh mushrooms. For the liquid, I used a cup of wine and a cup of the mushroom soaking liquid instead of part of the water. The soup came out rich and full of flavor, with tender meat and vegetables and broth so good you could drink it all by itself. I made a full pot, but most of this will go into the freezer for future lunches. Thanks so much for a wonderful meal!
** I made this soup about 10 weeks ago, and put most of it in the freezer. I took some of it out today for lunch, and it was just as good as the day I made it. I needed to add a little water, as the barley had absorbed most of it, but otherwise it was perfect!
Trim fat from meat, cut meat into 1/2-inch cubes.
In a Dutch oven combine meat, water, broth, celery, mushrooms, carrots, onion, salt, rosemary, pepper, and garlic and bring to boiling, reduce heat.
Cover and simmer 1 to 1-1/4 hours or until meat is tender, if necessary, skim fat.
Stir in tomato paste and barley. Return to boiling; reduce heat. Cover and simmer about 10 minutes or until barley is done.