WiGal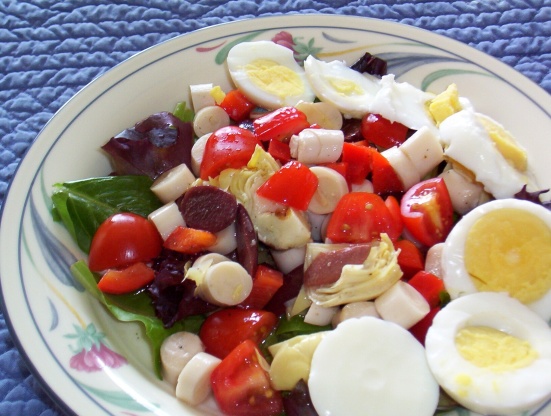 This recipe has been adapted from another cooking site. It was billed as the "South Beach Salad". I don't know if the changes I have made have changed that or not. It is delicious and made a wonderful and different salad to serve for guests.

*Made for Australia/NZ Swap #78* A REAL winner, Paula ! Can't understand how I have missed it in previous swaps ! Prepared double for 4th of July crab feast, sine 1 couple cannot tolerate dairy. I, too, went a tad heavy on the Dijon, and it was perfect. Leftovers tonight for DD and family, and they will love the "healthy" part as well as the tasty ! I will be serving this often this Summer. Thanks for posting !!
Combine the dressing ingredients in a covered jar and shake vigorously to mix.
For the salad, combine the hearts of palm, peppers, artichoke hearts, and olives in a bowl.
Pour the dressing over and mix well; refrigerate for at least 1 hour.
When ready to serve, place the mixed greens on chilled salad plates, divide the heart of palm mixture evenly over the plates and arrange the hard-boiled egg slices and tomatoes over the top.