Hearts of Palm Parmesan Salad
Bergy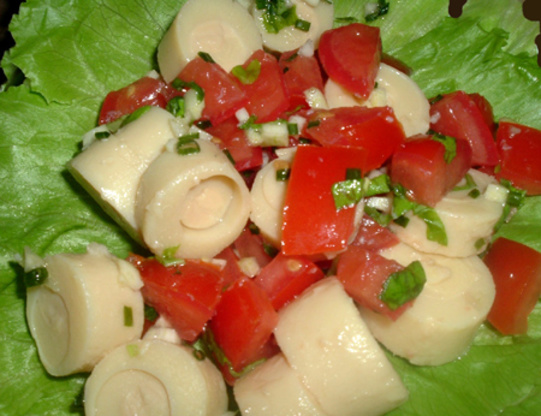 This is a Costa Rican salad that I enjoy very much. Use fresh shaved Parmesan not prepared grated.

I live in Ecuador and my husband is the quality control manager at a factory that makes canned goods.....including hearts of palm. He started bringing home cans of the stuff a few months ago, but I had no idea what to do with it. I've tried a few recipes, but wasn't convinced that I liked "palmito" until I found this salad! I had it over mixed greens with a couple of hard boiled eggs---filling, tasty and really healthy! Thanks for this!
Cut the hearts of palm into 1/2" wide pieces Combine all but the parmesan ingredients in a large bowl.
toss and allow to sit at room temperature for 30 minutes allowing the flavors to blend Serve with shavings of Parmesan on top of the salad.