Doods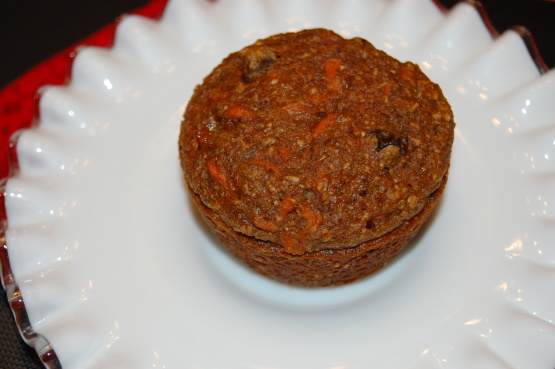 These muffins are made with Flaxseed meal and Soy milk. No added fats, and plenty of fiber. I make these muffins for the local coffee house. Can hardly keep up with the demand for these good tasting and good for you goodies.

Top Review by Doods
This recipe is a keeper. I was looking for a healthy muffin to take to work for breakfast. This is a very moist muffin and very delicious. I did not have soy milk so I used skim milk. I love the fact that they are so good for you and taste good too!! UPDATE: These muffins freeze wonderfully. After thawing out they are just as good as when first made. I love this recipe.
Mix together flour, flaxseed meal, oat bran, brown sugar, baking soda, baking powder, salt (if desired), and cinnamon into a large bowl.
Stir in carrots, apples, raisins (if desired), and nuts.
Combine milk, beaten eggs, and vanilla.
Pour liquid ingredients into dry ingredients.
Stir until ingredients are moistened.
Do Not over mix.
Fill muffin cups 3/4 full.
Bake at 350 degrees for 15-20 minutes.