Heart and Soul Black Bean Soup
Bayhill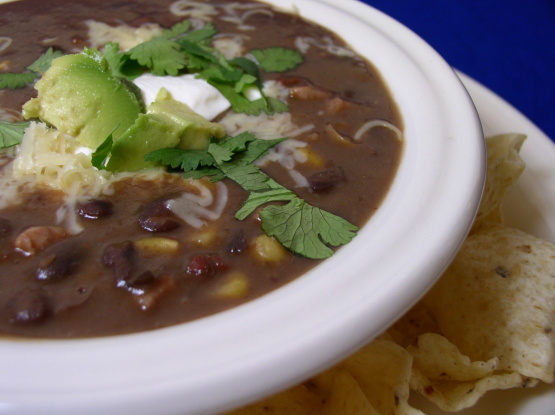 This soup is so easy to put together. Warms your heart and soul. Toppings are all optional, you don't want to miss out though :) Made for RSC #11

Top Review by KateL
5 Stars. "May I have more?" asked DH. Yum. This was so-ooo-oh good. And I goofed, big time. Relying on my local supermarket, I used regular refried beans (Pinto beans!?!?), then realized I would not be able to resell my house due to lack of proximity to Whole Foods Market or Trader Joe's. Panic set in. I warned DH not to judge the recipe based on its looks, because -- in all honesty -- the pinto beans dominated the color, and that's not the most appetizing color. I need not have worried. The taste was that of a superior bean soup, we both had seconds and thirds, and froze enough for another meal. For me, I had finally found a black bean soup that did not need a shot of sherry for kick. For DH, this earned me forgiveness for a week's worth of my transgressions. It was soulfully good. I forgot the lime juice; we were in heaven without it, but I grant you, lime juice sets off black beans very nicely. I'll remember it next time. For this soup, if I can't find the refried black beans, I would use Recipe 23705, Light Refried Black Beans. It's better that the soup be mainly black, for aesthetics; the corn will accent it nicely, and the addition of raw red bell pepper strips for garnish, or drained tomato salsa would also rev up the presentation. The fat content of the refried beans performs the magic of providing a thick, satisfying soup. Using a pulverizing stick won't attain the desired result, I don't think. Feel free to prove me wrong. This is a definite keeper. Good luck in the contest.
In large pot, heat oil with medium heat and add shallots and garlic.
Saute until translucent, approx 2 minutes.
Add chopped ham and saute for another 2 minutes.
Add all beans. To drain black beans, place hand on top of opened can,
slowly turn over and let the juice flow out between your fingers. It's kind of fun :).
Mix well; the refried beans will need to be broken up.
Add creamed corn and chopped sun dried tomatoes.
Add cayenne pepper to taste.
Add chicken stock and bring to simmer, stirring occasionally for 20 minutes.
Serve in bowls topped with grated Gouda and a squeeze of lime juice.
I would suggest all the toppings too :).
Toppings: (Optional).
Avocado, cubed.
Cilantro, torn into small pieces.
Fat free sour cream.
Tortilla chips.
Big Spoon :).