Posting just to get nutrition content. I make these on the weekends to take for lunch during the week.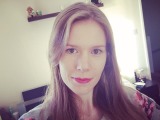 Loved, loved, loved these!! I know they're seemingly simple, but sometimes it really is the simple things that are the best! These were super tasty and everyone loved them. Made a nice change to have a wrap instead of sandwiches too!
Mix cream cheese, onions and ranch dressing mix in bowl.
Spread 2-3 tablespoons mixture on tortilla in a thin layer.
Place spinach leaves on tortillas.
Place 1 slice of ham on each tortillas.
Wrap up tortillas and put in plastic wrap.
Refridgerate 1 hour before eating.