Healthy Warm Artichoke Dip
Parsley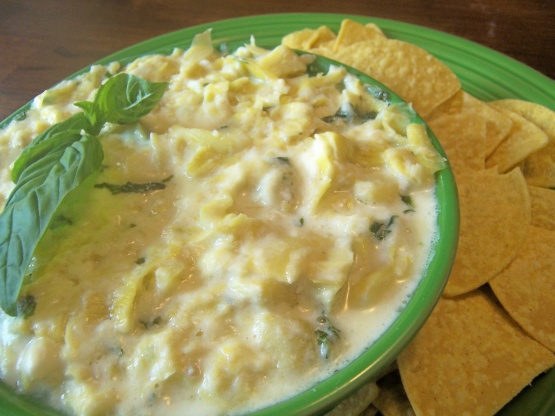 This is a tasty healthy option for an appetizer or snack. Super fast and easy! Serve with warm pita or tortilla chips. From SELF magazine.

Top Review by sprue
this had really good flavor but i found it to be better as a casserole than a dip. the yogurt seperated to much and it wasnt creamy so it was hard to dip. i think using sour cream would make it more dippy. i added some chopped jalepeno's for some heat. the flavor is fantastic. just need to to work on the texture but then it may not be as 'healthy'
Finely chop artichoke hearts and put in a microwave-safe dish.
Add yogurt, cheese, garlic, and basil. Mix well.
Microwave 3 minutes on high. Stir. Microwave 2 minutes more. Serve warm.