Xanthia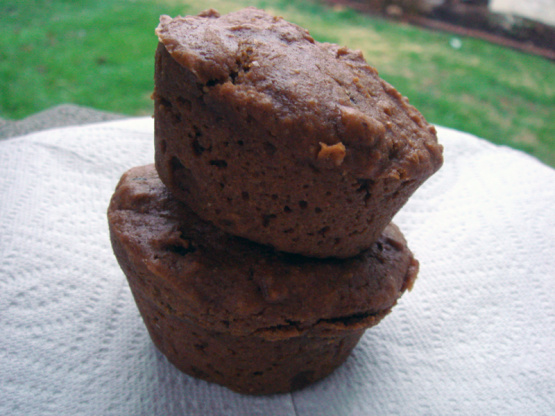 Recipe from Carl Lewis' Very Vegetarian. I make these muffins every couple of weeks and modify slightly each time. They make a very yummy and nutritious breakfast. My boyfriend doesn't like raisins and loves chocolate so I always drop the raisins add 1/2 cup or so of mini chocolate chips. I also frequently add 2-4 mashed bananas as well as some wheat bran. I also reduce the oil or eliminate it altogether.
Preheat over to 375°F; prepare a 12-muffin tin with paper liners or non-stick spray.
In a medium mixing bowl, combine the flours, baking powder, cinnamon, nutmeg, allspice, salt, sugar, raisins and flax seeds (If you don't have ground flax seeds you can puree whole flax seeds with a couple of tablespoons of water and just add them to the wet ingredients).
In a small bowl, whisk the molasses, applesauce, soymilk and oil.
Add the wet ingredients to the dry ingredients and stir until the mixture is blended.
Distribute batter evenly in the 12-muffin tin.
Bake 20-25 minutes or until a toothpick inserted in the middle of a muffin comes out mostly clean.